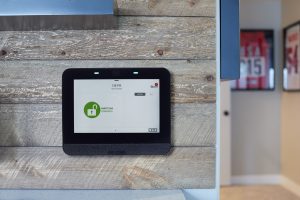 When creating IQ Panel 4, our designers wanted to make something that not only automated and protected your home but looked great in it as well. IQ Panel 4 is the first panel we've made that comes in two colors: white and black.
Black is a timeless color. It's unique in that, compared to other color options, it doesn't move in and out of trendiness in the same way. Insider.com predicted in early 2022 that black accents were going to soar in popularity. In fact, Google searches for black accents reached their highest peak in January 2022.
In 2020, Jessica Pierce, lead design consultant with David Weekley Homes wrote about this trend as well, stating, "We're seeing a trend toward light, bright spaces with black accents to create contrast that's very popular. Black plumbing fixtures, door and cabinet hardware, lighting and even tile, is helping to create this unique look."
Of course, a room can easily be overwhelmed with black and become devoid of character and life, but light touches of black in contrast with brighter colors can pull a room together and make it feel "finished". Neptune.com, an interior design company, explained why this trend works, saying, "Rather like a painting which is transformed once mounted in a slim black frame, every room can benefit from the stabilizing effect of a delicate touch of black."
Your customers will be looking at their IQ Panel 4 every single day. They will have to consider the design implications of the panel as well as its technical specifications. For customers looking to tie a room together and follow trends, a black IQ Panel 4 will be a strong choice.
The Power of Choice
In 2000, psychologist and "expert on choice" Sheena Iyengar, along with her collaborator Mark Lepper, published an interesting study on the influence of choice on consumers. In it, Iyengar and Lepper set up a jam-tasting booth in front of a grocery store and rotated between a selection of six and 24 jams to discover how variations in the number of choices affected consumers' final decisions.
The pair found in general, although customers appreciate large numbers of options, fewer choices make consumers more likely to make a purchase – almost six times as likely in their jam study. Additionally, customer confidence went up when they received a recommendation on which choice they should make.
It might seem like the choice between a black or white IQ Panel 4 is a simple choice, but it is a choice your customers will have to make, nevertheless. You can help them make that choice with confidence with recommendations tailored to their concerns.