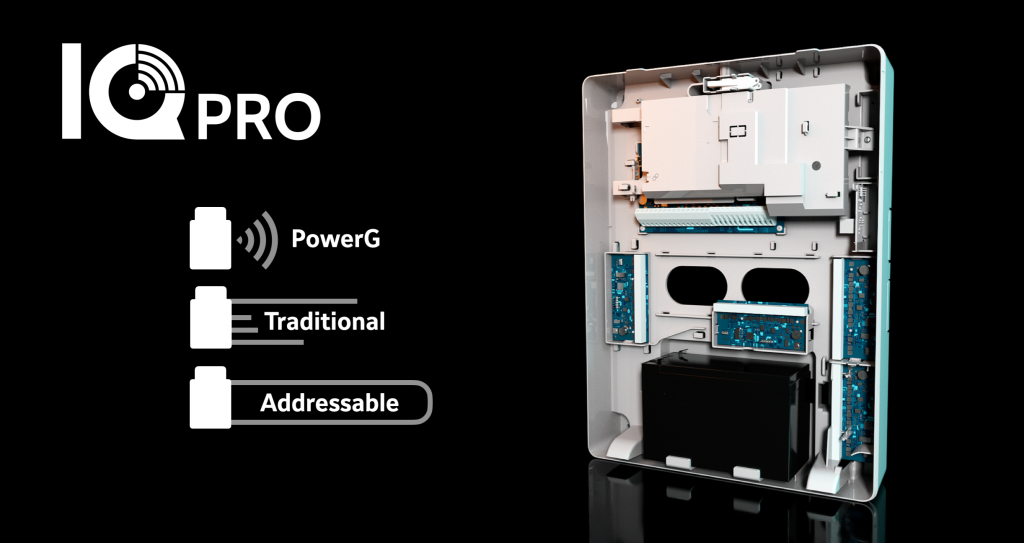 The new IQ Pro is a game-changer for connectivity.
No matter if you're using hardwired or wireless connections, IQ Pro helps you set-up and manage your system easier than ever. But what kind of connections are there, and how does IQ Pro fit in?
PowerG Wireless:
IQ Pro does wireless different than other hybrid panels. PowerG Wireless is embedded in the panel, so there's no other purchases necessary before a system can utilize PowerG's 1.24 miles of range and secure connectivity. If the IQ Pro is in an inconvenient spot where it can't be used fully, users can purchase PowerG Hosts to centralize or extend PowerG's wireless connections.
IQ Pro's PowerG wireless capabilities are powerful and flexible, but sometimes an install necessitates hardwired connections. These connections come in two main forms: traditional schemas and addressable loop schemas.
Traditional Wiring Schemas:
Traditional wiring schemas require each device within a security system to have its own wiring connected back to the panel. This method of wiring is best utilized in smaller residential installs as running individual connections through a building to every single device can become quite laborious.
Even considering the higher amount of effort involved, this method is relatively cheap compared to other wiring options. Wires in traditional schemas don't have to be run in a specific way and do not require the purchase of specialty devices or panels to function correctly. By using this schema, installers can cheaper devices to connect to the system without fear of compatibility issues or set-up headaches.
Addressable Loop Schemas:
Rather than running wires to every device individually, an addressable loop schema runs one wire through every device on the system. Rather than having its own connection to a panel, each device is assigned an address within the system to give it a way of individually relaying its status and other information to the panel.
Because this method is less labor-intensive than the traditional schema, addressable loops are commonly used in large-scale installations. Installs are made simpler as the entire system uses less material overall than a traditional schema of the same size. Additionally, if a building has intrusion infrastructure already in place, an installer can utilize the existing wiring to set their devices up on a new system. However, to function correctly, addressable loops require addressable panels and devices that can cost quite a bit more than traditional wiring hardware.
If an installer does end up in a situation where using wires is the best option, with IQ Pro, they'll be able to complete the install regardless of the building's schema. IQ Pro works with either traditional or addressable loop wiring schemas to painlessly get security systems up and running.Instead of antiquated menu-driven setup, IQ Pro's installer app, available for Android and Apple devices, reduces install times even more by taking installers through clear step-by-step installation instructions and troubleshooting.
No matter your connection, IQ Pro is there to help you manage and secure your assets like never before.