The newest generation of Wi-Fi technology is more than a catchy name.
When connecting to new Wi-Fi networks on your smartphone, you may have noticed a small "6" next to your Wi-Fi signal strength and thought to yourself, "What does that even mean?" Maybe you didn't even notice it because of how tiny it is.
Even though the symbol is small, that little number is a big deal. When it appears, congratulations! You are now connected to a Wi-Fi 6 network.
What is Wi-Fi 6?
Wi-Fi 6 is the latest generation of Wi-Fi technology, following a change in Wi-Fi Alliance's naming conventions. Wi-Fi 6 is faster and more secure than Wi-Fi 5, with support for new WPA3 encryption and a theoretical maximum transmission of 9.6Gbps – nearly triple Wi-Fi 5's 3.5Gbps max.
While it's true that Wi-Fi 6 is faster than previous iterations of Wi-Fi, you're unlikely to notice a significant change in speeds on your wireless devices. According to Ookla's speedtest.net, the average download speed in the United States at the end of 2022 was 78.86Mbps, or .7% of Wi-Fi 6's theoretical maximum. Even across multiple devices, you're unlikely to ever need to hit that limit.
Where Wi-Fi 6 really shines is in the number of devices that can connect to the network and maintain fast speeds. As more Wi-Fi devices make their way into homes and homes come bundled with more Wi-Fi devices, wireless routers need to keep up with the onslaught of connections headed their way.
Wi-Fi 6 enables routers to handle the ever-increasing number of devices with ease. Through features that more efficiently manage when and where data is transmitted, more devices can connect without slowdowns than with previous generations of Wi-Fi. Improvements to wireless security standards on Wi-Fi 6 means you can connect with confidence knowing that your information is safe.
What do I need?
Wi-Fi 6 starts with the right router. While Wi-Fi 6 is an amazing improvement to wireless connectivity on its own, picking the router that addresses your needs is essential to getting the most out of your connections. Router features can help you create an easier and more unified wireless experience with Wi-Fi 6.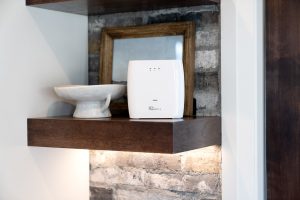 The IQ WiFi 6 router utilizes Wi-Fi 6 like other routers on the market but offers additional features and benefits specific to the security industry to make your home or business safer than ever before. Remote router access, Alarm.com and IQ Panel integration, and a dedicated network for security devices means your Wi-Fi 6 network can provide the best wireless connection, no matter the device.