Qolsys SVP Mike Hackett explains the fortuitous timing of Interlogix's exit announcement, plus how his company is attracting dealers left in the lurch.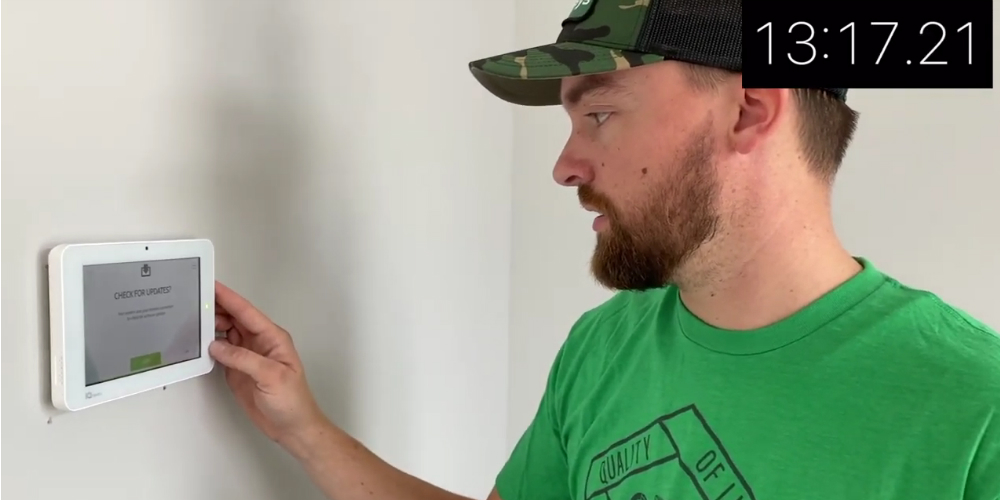 Interlogix's decision last September to bail on its security business in the United States and Canada may well endure as one of those "Where were you when you first heard?" moments in industry annals.
Pose that question to Mike Hackett, co-founder and senior vice president of sales and marketing at Qolsys, and it's clear why that consequential announcement will forever remain with him like it hit yesterday.
"I'm very sensitive to the people at Interlogix, so I don't mean to say this in a disrespectful way," he says. "The timing couldn't have been more opportunistic for us."
Qolsys, designer and manufacturer of the IQ Panel 2 Plus, among other life-safety and home automation gear, was in the midst of hosting its first-ever customer summit at a beach resort in Santa Cruz, Calif. The company had convened its top 50 dealers for two days to thank them for their business and pontificate about the future when the Interlogix press release dropped.
Hackett describes a scene of tremendous coincidence. While members of the leadership team, including himself, were on stage conducting their presentation, dealers in the audience began whispering among themselves. The Interlogix bolt-out-of-the-blue had just flashed, and word was fast dispersing right there in the ballroom. Hackett and other team members wouldn't learn of the announcement till exiting the stage at the next break.
"So while we're telling everyone in the audience that you made the right decision to go with Qolsys, a major industry player basically validated everything that we're saying in the room. It's about software. It's about technology. It's about roadmap. It's about what's coming next," he recalls. "And that was everything that Interlogix failed to deliver on."
Like other panel manufacturers, Qolsys is working mightily to attract new customers from the legions of disaffected Interlogix dealers. The company claims to have written more than 1,200 sales and purchase agreements (SPAs) from Interlogix dealers to date since the exit announcement.
It's fortuitous the Qolsys team can speak a similar language with them. When the company came to market just shy of six years ago, it did so with a sensor portfolio built on the already well-established "GE frequency" – 319.5 MHz.
"From a technical perspective it has good range, good battery life, goes through walls. But there was also this installed base of dealers and customers and distributors who understood the frequency," Hackett says. "So we've had a long history of kind of winning and sharing what I would call 'Interlogix customers.'"
Among the 50 customers in the room that day, Hackett says, were some dealers who were already splitting their hardware business between Qolsys and Interlogix. Because the Qolsys sensors are interoperable, dealers regularly paired Interlogix sensors to Qolsys panels and vice versa. The company's panels can also be easily swapped in for Interlogix wireless panels.
"Literally within minutes, and for the rest of the summit, we had dealers coming to us and say, 'OK, you had half my business; now you got it all," Hackett tells.
Well Positioned to Deliver Value
From a historical perspective, Hackett explains, security dealers can generally be segmented into three buckets: 1) dealers with long term customers seeing new high-tech entrants and cellular sunsets have decided this is a good time to sell   their business; 2) dealers  who proactively doubled down and reinvested for the same reasons; 3) and, dealers  who were reluctant to change until change was thrust upon them.
"This happens in life everywhere. It happens in our employment careers," Hackett suggests. "You've been at your job for so long; you're coasting along and guess what, you're laid off. The decision has been made for you. You probably knew you should have left a long time ago."  For many Interlogix dealers the decision has been made for them.
The predicament can seem daunting. Many dealers have been faced with going back to their bank to seek additional funding or derive other financial means to invest in new technology. Oftentimes, business models must be adjusted — along with company culture — to successfully adapt.
"The dealer," Hackett explains, "is saying 'What am I going to do now? I've got Ring, Nest, SimpliSafe coming at me. I have ADT reinvesting. I have this whole IoT space coming. My customers want a thermostat connected to their security system. How do I do that? They want flood detection. They want video doorbells, they want voice. WiFi has to work and Z-Wave has to work. And what's a mesh network?'"
Hackett describes the Interlogix exit as something akin to getting splashed in the face with cold water; for dealers, a rude wake-up call of sorts. Now alienated from a long-time vendor relationship, many found themselves at a crossroads. It forced dealers to broaden their scope and perspective of an ever evolving marketplace. No longer can they compete solely by selling low-cost, low-touch alarm panels. Instead, the playing field has evolved into  a competition for the home. That realization has proven liberating for many dealers.
"Once they were laid off, so to speak, they jumped into the deep end big time," Hackett says. "'I want training. Help me get into builder programs. Help me sell to commercial customers. I believe the IoT space and the connected home is the place to be. I believe my trucks, my service, my entrepreneurialism is well positioned to deliver value.'"
Developing Marketing Acumen
Qolsys is talking a lot about value proposition within the channel, but that can be an involved, layered conversation with a security dealer traditionalist. Installing security contractors, like the wider industry, can be very slow to change — and risk averse.
"When you're protecting lives you should be risk adverse. You should be methodical and deliberate in deciding to change vendors," Hackett says. "But in this case, the vendor forced change upon the last remaining Interlogix dealers."
A fresh approach to selling value proposition for many dealers nowadays encompasses far more than hanging one of the market's most economical panels on a customer's wall — no matter how sturdy it performed through the years.
Innovation and technology has ushered in increased user engagement and satisfaction, lower attrition and lifestyle enhancements that consumers have come to expect, if not, demand. Dealers must be conversant about the merging of life-safety systems and the IoT if they are ever able to fully maximize value creation for the consumer.
"Our homes are going to be inundated with sensors. And that's not necessarily a DIY kind of world or experience. You're not going to just keep putting more stuff in the home, there will always be a material percentage of the population that are e going to need people to do it for you," Hackett says. "Interoperability is going to be an issue. 'I want this to work with that.' Oh, well, good luck. You will have to call a professional. So we love the dealer channel."
Raising the marketing acumen of legacy security providers can pose yet another mountain to climb. "As a whole this industry is not good at marketing itself. We kind of depend on referrals and when the referrals don't come we sit around wondering what's going on," Hackett says.
So that's where the Qolsys spends most of its time once a dealer has converted — improving their marketing skills, resources and sensibilities. The multipronged endeavor can include instruction for sales conversations at the door, phone scripts, website improvements, marketing collateral, digital assets, technical training and much more. (In this video, a technician demonstrates how a Qolsys IQ Panel 2 Plus can convert an existing Interlogix system in 16 minutes. The system had six sensors programmed.)
Among its many dealer services, the company staffs a marketing and technical support team that conducts weekly webinars and makes themselves available for dealers to contact directly. The work that dealers are committing to is proving fruitful.
"Change is difficult. But you know what, they are sponges. They're all raising their games and their acumen is extremely strong," Hackett says. "They just needed to be shaken up a little bit, and now they've found out there is gold in the river."
Read original article here.